As many of you know I am barely back from Germany and Amsterdam and the wonderful Blanco Design Council trip when I am off to Spain with the Tile of Spain folks, 3 fabulous Architects and a bevy of press folks! And, many friends and colleagues ask me " What the heck is Tile of Spain and how do I get on their short list for such an awesome trip??" Ha!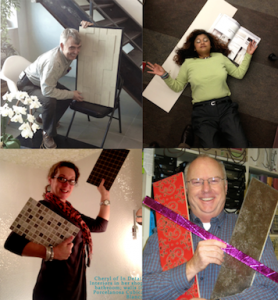 So here you go in one quick post! Not sure how you get on their short list because quite frankly not sure how I got on. This was how it went down. I kept seeing colleagues and other folks tweeting and face booking ( is that in Webster's yet?) about Tile of Spain's competition to attend this year's Cevisama tile show in Valencia AND tour architecturally important Spanish landmarks, tour factories and all sorts of cool stuff I love to do.  Since tile is an integral part of my daily life ( the design assistant team at the shop know how to get me in a GOOD mood…order me new tile samples…) and I love to travel…no brainer. I decided to enter my name into the hat. Two days prior to the end. With zero hopes of actually winning, I wrote straight from the heart and (literally) straight from my mind short answers to their questions on the application. I think it may have been the "Just say no to tumbled marble" that got me the nod. Who knows? I am not questioning the Gods of good fortune and am packing my bags!
But what is Tile of Spain? It is a private organization whose objective is to support Spain's ceramic tile manufacturers ( consists of 125) and the industry as a whole by promoting the Tile of Spain brand worldwide. They have a wonderfully informative website Here where you can read about current trends, awards, design ideas and tips about ceramic tile. Check it out as I was surprised what great information the site contained.
[Spider_Video_Player id="1″]
As well as meeting all these great new people, I will be taking a TON of photos to share with you and also for a few articles I have been asked to write. When? I do not know. Think I will have an opening between 3 and 4am one night! Ah but what fun! I love it and can sleep on the plane! Or when I am dead and gone! For now, it is time to brush up on my Spanish ( consisting of por favor and counting to ten) pack, and make sure all my clients are tucked in for the next week until I return. But they know too how invigorating these trips are for my creative spirit and inspiration! Wish you all could go!
Hasta la vista!!