I had the pleasure a year and a half ago to meet Kelly Morisseau, a second generation kitchen designer residing in my old home state of California. She is part of the now infamous (YEE HAW) Blogger 19! I love Kelly's down to earth humor and sensible approach to design and now she has a fabulous book out combining both of these elements! It is a great read for anyone contemplating a redo of your kitchen.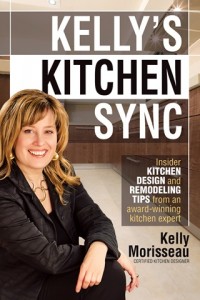 Even if you hire a designer, and of course hope you do, you will be what I like to call, an INFORMED consumer. This is a good thing! I am happy to excerpt a few pieces of advice from Kelly on one of the subjects I try myself to hammer home early in the process of remodeling just about any part of your home.
Drum roll…..
YOU WILL BE INCONVENIENCED!! Plan ahead!
This is something people "know" but do not "KNOW"…if you get my drift. My number one job as the owner/lead designer at In Detail is to manage expectations.  This is critical to a successful project AND a happy client AND a designer who can sleep at night! Kelly has some great tips to help you be less inconvenienced!
(From Page 204 about tips on how to live through a remodel)
*Set up a  temporary kitchen in the dining room living room, deck, or wherever an outlet is available. Have the refrigerator moved there along with a counter or cainet or table set-up nearby with the microwave, and coffeespot. Move the plates,cutlery, and condiments there first. (note from me: I think most people miss a sink the most…so this is a key element  in the temporary kitchen set up….if you can!)
*Buy and electric or induction hotplate. This is a single or doule element that can be plugged in and will allow some simple cooking, whether it's scrambling eggs or making chocolate sauce. ( note from me: you can also purchase an electric skillet…I had one I loaned out for 5 remodels before it went bust and it worked nicely also)
*Protect your entertainment equiptment. Airborne dust wrecks havoc on electrical equiptment like stereos and computers. RElocate if they are in he sme room.
*IS there a sink nearby? your're lucky if you have a laundry room sink or even a bathroom sink. Sometimes, we've plumbed for a temporary sink outside.  (note from me: often I will re-install the kitchen sink right back into the same location….with a temporary plywood frame my hubby built for me years ago on our own remodel. Yes, you are paying to hook and unhook plumbing but sometimes with a busy family it is well worth it!)
*Plan for a message center near a phone so you can leave notes for the family or the crew.
Kelly also has a few tips gleaned from her clients.
*Disposable wipes and plastic containers may save your sanity. (YES!!!) The wipes are helpful in the short term when there's no ready water source. Plastic containers keep the construction dust from getting into the plates and food.
*Prepare casseroles or freezer food in advance. Package them in dinner sized portions because lasagna can dry out after repeated re-heating in the microwave
*Exchange dinner party favors with family and neighbors.
*Drape sheets over bigger furniture before the plastic.Stops any particles from scratching the surface if the furniture gets moved.
*Save the eating out for the latter part of the project. In the beginning, it's fun. Towards the end, it's nice to have someone else do the dishes and get away from it all.
These are all such practical, but often neglected ideas to prepare yourself and your family for a great adventure on the road to  a new kitchen…but a trip that can be trying on the nerves!
My last two cents: Dust off your patience and keep a sense of humor. A good remodeling project does not go lickety split. Good design and attention to detail takes more time than slapping down some tile and cabinetry. Trust me on this!
And it is worth it in the long run!
Please check out Kelly's book. It is truly a gem and worth the $$ if you are considering a kitchen remodel or even building new!
"Kelly's Kitchen Sync: Insider Kitchen Design and Remodeling tips from an award winning kitchen expert" is available from Amazon.