Counting down the days to my incredible trip to imm Cologne in Germany and the Living Kitchen sponsored by Blanco  and decided it was good timing  to post a book review of one of our fellow Blanco Design Council members! I met Jamie Gold years ago in Albuquerque at an NKBA meeting of officers and we met again a few years later in New York at a Brizo event.  Been friends ever since!

So let's talk about Jamie's book. Full disclosure though, I have two kitchens in the book so am hardly unbiased!  But really, Jamie has done a very thorough job in this easily read and informative guide to kitchen specifics.  ( look for a future post about the projects of mine that were selected)
This should be required reading for anyone considering remodeling a kitchen, any newcomers to the kitchen and bath world (ahem…In Detail newbies!!), or anyone considering pursuing a career in the design field. Not only is it full of great kitchen designs, but Jamie does a great job breaking down all the elements that go into designing a kitchen in a way that's not so overwhelming. From fixtures and flooring to wood choices and lighting, not a thing is left out.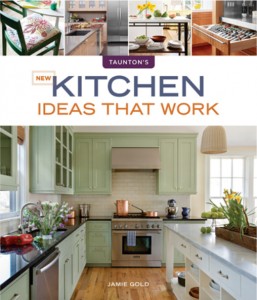 If you've ever survived a kitchen remodel you have probably experienced the insane in-depth processes it requires. I love tackling a good kitchen challenge, but a lot more goes into creating a successful kitchen than granite and stainless steel appliances.  People come to me for a reason (well ok more than one): because I've mastered how to maximize a kitchen remodel. Each selection I make is carefully considered, not only as an individual unit and how it serves and reflects the client, but how it harmonizes with all the other elements in the kitchen.
This book walks you through everything you need to consider before starting a kitchen remodel, especially if you are the homeowner. I really liked how the book was laid out and organized. It allows you to jump around to the areas of most concern without losing anything. The photos are all gorgeous and lots and lots of details shots! Excellent! Needless to say I am very proud of Jamie's efforts here and honored I was called upon to contribute to this project.
The book is available from Amazon and Jamie's blog is another must read!
Stay tuned for updates from imm cologne! We are all very excited to be back together with Blanco and this year have the added fun of hanging out with the Modenus crew and seeing more old friends and making new ones. Love my job!
Until tomorrow!