Truth? Kind of a yawner. More of a social experience than a learning experience.
I am sorry but I am a KBIS ( Kitchen and Bath Show)  veteran. Been there in the days of Kohler's fantastic dancers. Sub Zero and Wolf's elaborate displays, Meredith publication's partnering with KBIS to build gorgeous set displays….days when EVERY vendor was represented. As a small boutique owner you would not MISS it and as a designer, it was an immeasurable benefit to your inspiration, design library, and knowledge base. Granted, we are in a  tough economy. Got it. Check.
Do not need fancy shmancy booths. But for real? Give us something worth looking at folks! If it were not for my beloved Brizo, Toto, Northern Contours, Blum, Top Knobs and Hafele….why would we even bother? ( ok the food in Chicago is awesome and yes we ate out A LOT) But I miss seeing Bain Ultra, Hansgrohe, and many other mfr.'s who are part of my every day life.
And let me say now, I guess I AM THE ONLY PERSON WHO ATTENDED and who blogs that did not think it was worth the cab fare from the airport? Either that or everyone else is keeping their size 9 and a half mouths shut for fear of NKBA reprisal…."you aren't the boss of me Mr. NKBA and I ain't scared of you anyhow!" …she says with some trepidation in her usual defiant voice.
So what gives? In my not-so-humble opinion…think the powers that be at the NKBA are not in touch with what their membership wants…nor are they in touch with what vendors need. Ok, there I said it and the two ton elephant is in the room!
Here are my K-Bad's….
1. As a showroom owner, there is

nothing at KBIS that I can make money on

. Nothing. The smaller mfr's who will "maybe" work with smaller dealers are priced out of the game. For the most part. Cut the costs for exhibitors and you will see a healthier show.
2.

The venue in Chicago

is awesome but really when you can walk the show in half a day and see a ton of empty space…may be time to move to smaller and cozier forum. I will go to New Orleans next year but simply because it is a 3 hour drive. I heart Chicago but seriously the Unions there kill all the exhibitors with the exorbitant costs. Plenty of cities would jump at the chance to host KBIS with less restrictions. Ok, Whew! I said that too!
3. Offerings for attendees do not address the

needs of the membership.

Oh and do not tell me to try and talk to them about it…I did this and so did others years ago when the writing was on the wall ….I was a chapter rep and as you all know, I am not very quiet with my opinions.

The leadership of the NKBA needs to be revamped

. Immediately if not sooner. 
4.

The majority of the design contest winners do not represent the best design

.  I am sorry but is simply true. Everyone talked about it. There were some exceptions. A few. I do not know how they choose judges but someone needs to get a grip. And yes you can call it bad grapes or whatever that saying is but truth is truth and I have been a winner in the past…and one of mine I questioned…why?  We all know there is the favored folks who win all the time and rarely is real design.
5.
The NKBA is no longer relevant

. Thus, the show needs to have new direction without the NKBA. I do not know if this is even possible. But the NKBA itself is only relevant to those already IN THE ORGANIZATION. No one in my area gives a toot about being a CKD and our local chapter has never taken off. Why would it? The speakers are not relevant and there is no other reason to get together. I have heard many of the former Board presentations…nice people but speakers they are NOT. Clients care about what my portfolio looks like and they care about what former clients say about my firm. That is it. The CKD is valuable for those who sell cabinetry and design as well but not those designers that do not work for a large firm and even then not sure it really matters. See the discussion Here with dealers. Interesting info.
   A few photos for your entertainment.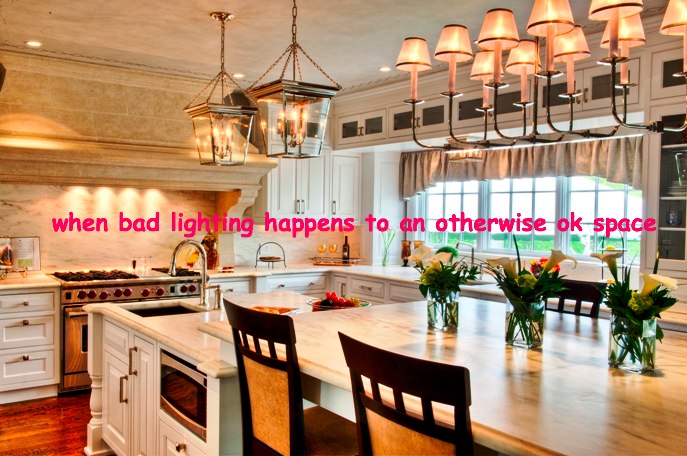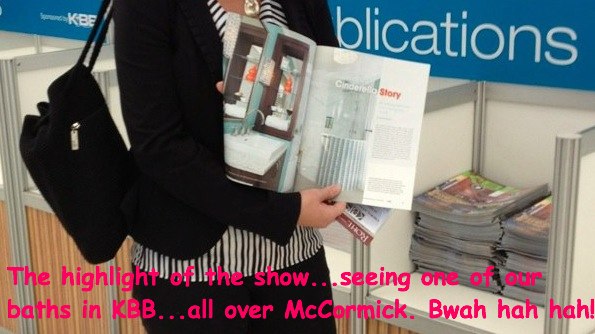 So yes I did pay all that money to fly all that way just to have the pleasure of going around McCormick opening mags to our project page! Was as good a reason any else.
So which side are you sitting on?