My new friend and fellow blogger, Joseph from the great design blog CFT411 has been kind enough to allow me to use his excellent post on one of my design heros, Johnny Grey.
I just spent some time getting to know Johnny in NY along with the rest of the awesome #blogger 19 group that Brizo hosted last week. I cannot lie. It was a thrill to meet Johnny and one his colleagues, Chuck Wheelock. I have owned Johnny's first book "The Art of Kitchen Design" since 1999 when I started my business and it sits proudly on my bookcase along with his latest book "Kitchen Culture" ( If you do not own his last book, rush out and get it. I think the first might be out of print.)
Please take a peek at Joseph's great blog. He is an incredible writer with excellent posts that cover a wide range of subjects on design!
"If it doesn't fit, It's Perfect"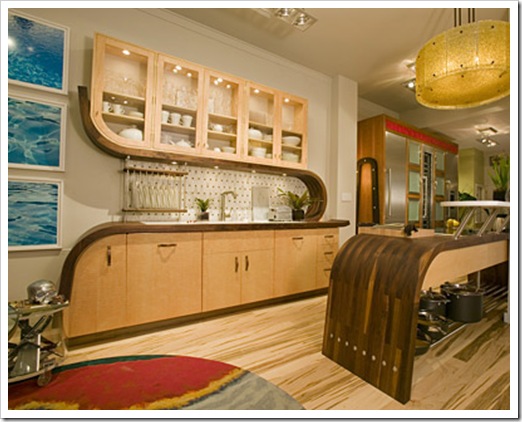 One of the more extraordinary kitchen designs I ever encountered is at the top of this blog. It is one of many kitchens by Johnny Grey, a British kitchen designer who has been around some twenty-five years, more than enough time for someone like myself to have heard of him, but I blush to admit that it is just recently that I came across his work. And that points up one of the problems faced by cabinetmakers—and even designers, I fear. We are so busy with our own work that we don't always take time to see what else is out there, what other ideas people have come up with.
Johnny Grey is very much a case in point. He is one of those who is doing exactly the kind of work I would most like to do. By which I mean to say that he is walking on snow without footprints, a concept I developed in an earlier blog. Briefly, what I most want to do in my own designs, is to do something that others have not yet done, but something that actually works, because an innovative design that doesn't work well is just an innovative design. Better it should be in a Salvador Dali that hangs on the wall while weprepare our meals in a kitchen that functions. But does a functional kitchen mean necessarily that it must always be the same as every other kitchen that came before it? And with that, we are ready to enter into the world of kitchen designs, or more specifically, the world of Johnny Grey's kitchen designs, because he is one who has chosen to look at kitchens in an entirely different light.
Mr. Grey started right at the top with his 1980 article in the London Sunday Times entitled "Why This Awful Fixation With Fitted Kitchens." What Mr. Grey proposed was using furniture in kitchens whenever possible and moving away from the idea of uniform wall cabinets above uniform base cabinets topped by uniform countertops. The fitted kitchen works well for factories for obvious reasons, and cabinetry that exactly fits the space for which it was intended certainly warms the cockles of my little cabinetmaker's heart. But the other side of that coin is that all of the kitchens end up looking the same, and the place where families gather, which is what has been happening in recent years, becomes a sterile, one-size-fits-all factory.
Mr. Grey fairly explodes that scheme by deliberately including elements of uneven height, curved countertops, colorful elements, items that are homey, that all but beg you to sit down, take a load off, become part of the family. And really now, when you think of your perfect kitchen design, isn't a room that welcomes all who enter it part of the picture you have in your mind? Then don't make it fit. Make it perfect.
Joseph