I have recently used the large "wood" looking tile 8″x47″. Very little waste with tight grout joints. I love it! Porcelanosa
I am in
love

with tile. stone, porcelain, mosaics, large format, tiny 1/2 x1/2 bitsy pieces….all of it. Really not sure how you can design a bath well without having a love affair with tile of some sort since it is usually an integral player in bath design. I enjoy coming up with tile layouts and unusual ways to use awesome pieces. I think the key to good tile design is thinking through all the transitions ..and there are many….and knowing the product well enough to know if there are trim pieces available or schluter or other metal trim that will work on corners of ledges, thresholds and any other area where the vertical surface meets the horizontal. With stone, this is easy as any competent tile setter can bullnose the stone to work with almost any transition.
But the key element is just simply thinking creatively! I get inspired by all sorts of odd things and much of it can then be related back to how I might incoporate tile in a design. At our studio, we sometimes just take a break and start putting together pieces and parts to get a great look..then later find a client for it!! Here are some of my favorites continued from Porcelanosa Tile.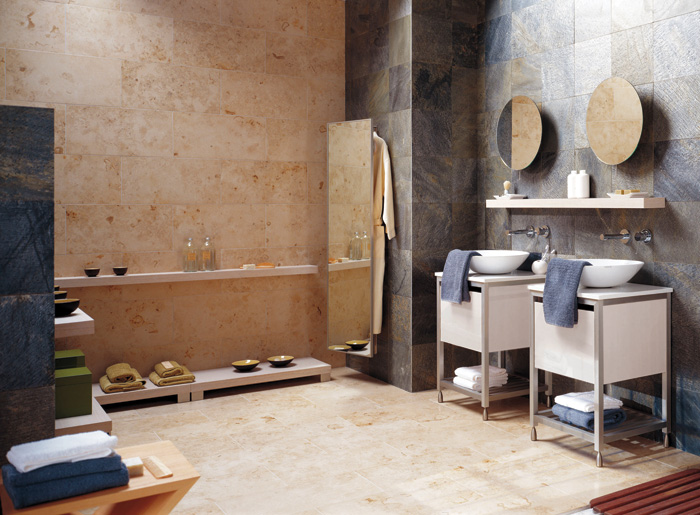 I also really like  Artistic Tile. We specify this line often and often use the same tile in a multitude of different projects with a different look each time.
Thanks Artistic for the eye candy.
Sonoma TilemakersVihara accent tile with mirrored bar liner and Artistic tile "mezzanine mink" 6x12 glass set in offset pattern

Don't you love the bubbles here? Pratt and Larson Ceramics

Unusual mix of marble, travertine and black granite...love the size of the sticks!

Walker Zanger is another favorite. You can mix and match tile from various manufacturers and create your own line!

I say there are infinite possibilities with tile and should be a designers dream! But, just go easy on the honed and filled beige travertine and the 4×4 tumbled marbles…they are so over used that I cringe every time I see it. Let me know what are some of your favorite tile lines!