Ok, back at my writing desk from a few days of hell. I love remodeling more than new construction in many ways but not when we find oddly located, unusual and UNMOVABLE pipes and weirdness in a short interior partition wall I want to move. Heavy sigh. Enough copper in this wall to fund the entire kitchen renovation! But enough of that! Another blog post in the future.
I want to talk about knobs and handles. The great detail that launched the retail arm of "In Detail" ( my shop). I could not find anything "cool" enough for my clients when I was just starting design work. I am originally from California so was a bit spoiled at the access to cool stuff. Not so easy to find in my neck of the woods or at least was not 12 yrs ago.
I started with a great company called Top Knobs that has good products and a vast selection in many finishes. Love them and they are my mainstay. My only beef is that they need longer pulls in some of the styles. I do NOT like 3 inch or 4 inch pulls. If you must retrofit then usually this is the common size but I like mixing it up. (are you listening Mr. Top Knobs??)
There are other companies I really like also such as Atlas Homewares.  My favorite is their lucite pulls and knobs!! I use Richelieu, Duverre , Rocky Mountain Hardware, and Colonial Bronze often as well. It just depends on the project really but do not underestimate the visual impact this decorative hardware item will have on your overall design. The knobs and handles you choose are a very important detail and should be carefully considered. Here are my tips.
And by the way, all of these photos are from our own portfolio!
**Try them out if you can borrow one from your dealer.
**Mix it up. Use long pulls on large drawers perhaps and shorter ones on smaller drawers, knobs on doors. Or, use a coordinating style on the island. Throw in a few art pieces on a hutch or separate area for fun.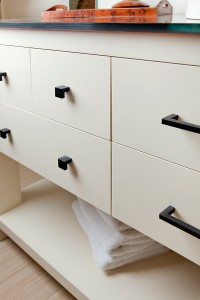 **Match finishes to the cabinetry not the sink or faucet.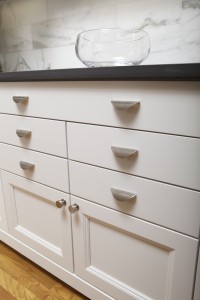 **Do not place too high on an upper door. Looks silly and duh, hard to reach.I like most knobs on cabinet doors to be placed slightly the edge of the lower rail
**Do not put a handle on a drawer anywhere but in the middle!! Very rare to have a reason to put it on the top rail of a drawer face.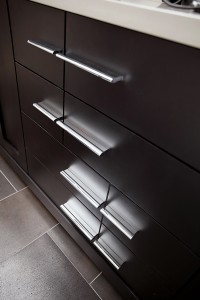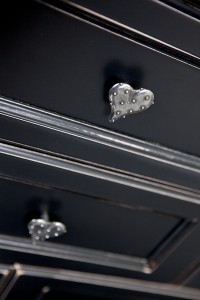 **Sometimes the pulls or knobs should stand out, and other times, you want them to fade in the background. Know the look you are going for!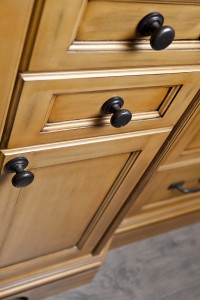 **Make sure and check the "neck" of the knob for easy grip and that you can get your fingers under a pull easily without bruising your knuckles!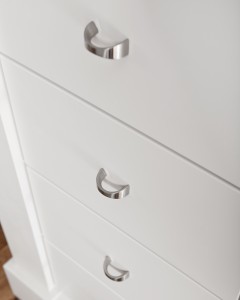 **Be creative! See the boat cleats used as pulls below! Think custom for cool refrigerator pulls too!