Sorrow can be alleviated by good sleep, a bath, and a glass of wine. ~~St. Thomas Aquinas
I have been on the hunt for a great tub for a client. The "perfect" tub. The one that will define a master bath as a sanctuary from all the world's pain or, at least, as a great place for a good soak.
It seems lately, I am constantly on the search for tubs. Small baths, large baths, luxury baths, budget baths….does not seem to matter, always searching. I think this probably is because I know the importance of choosing the proper tub for the space we are designing.
Often, it seems people choose tubs as an afterthought. Not me. I think the tub, if we are having a tub at all, is a critical design element and the layout and space planning must be coordinated with the tub selection.
For one of my current projects, I am looking for an affordable free standing tub for a remodel where the builder or designer did not think it was important to center the tub on the window.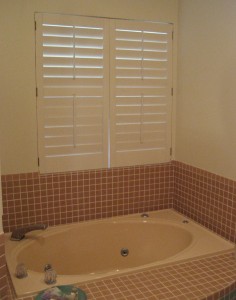 In this bath, I want to fix the visual problem with the window being off center. Don't you love the 2×2 sickly looking pink tile? Just imagine, it is in the shower all over the walls also! This bath is a tough one. Probably one of the best "worst" bathroom I have seen in a while.
I am searching for "the" tub to actually put in front of  the shower longways and thus will be centered perpendicular to the window. I think will work but the  search for the right "affordable" options has been tough.  I have enlisted the aid of some of my design buddies and this is what I got.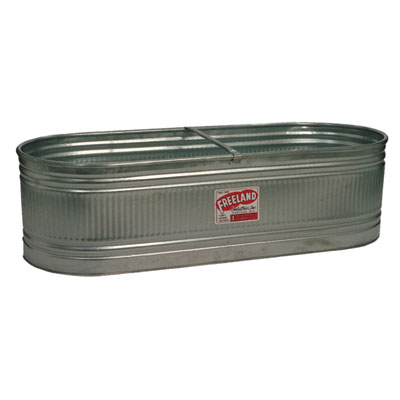 My buddy Paul. You are a barrel of laughs Paul! Kitchen and Residential Design
The tub I am currently thinking will work best is the "Essential" from Oceania. But, the price may blow the deal. I hope not. Do you have a favorite freestanding tub? Give me some info in the comments! I would love to hear about your favorite tub of any sort!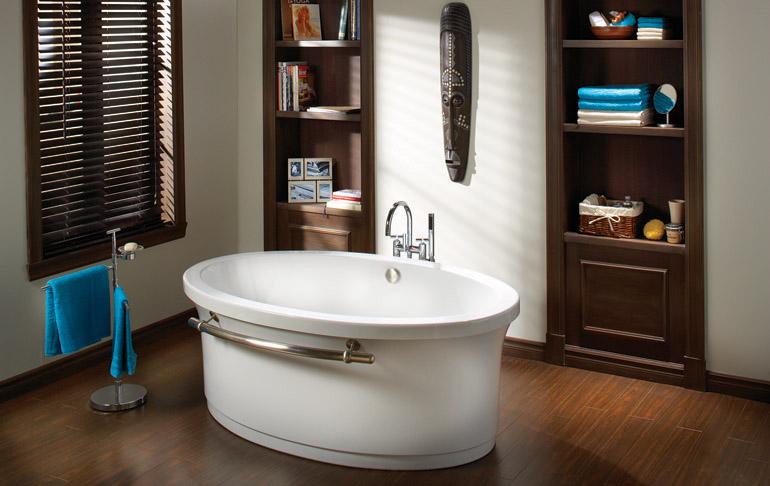 In other cost savings measures, this little bath for a teenager had a darling little tub measuring 36×36. Only bad thing is the color: avocado green.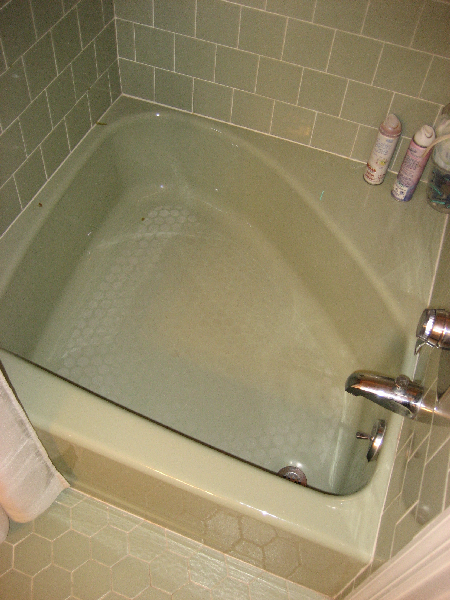 I advised against getting rid of it  because the teen sometimes likes to sit and does not want to get her hair wet. And besides, it is just kinda cute! But lot's cuter in white! So remember with a cast iron tub, reglazing can be a viable option.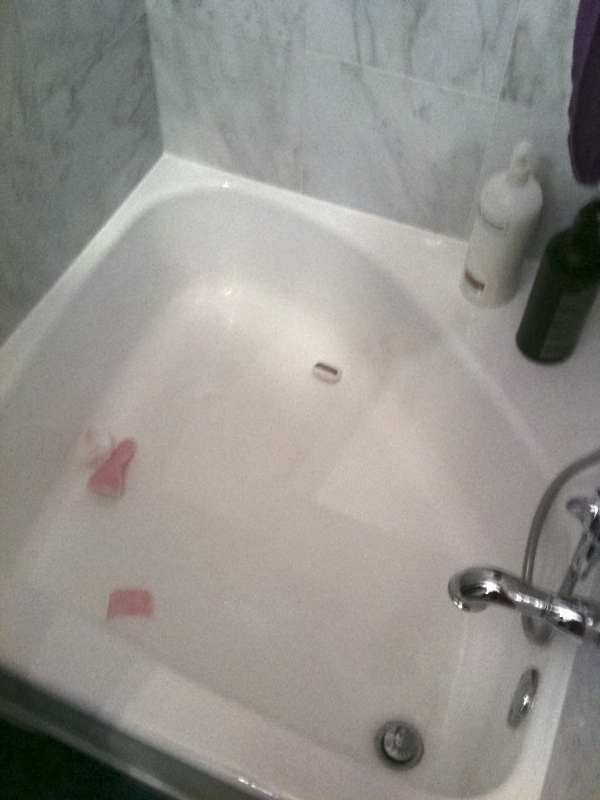 Another current project for a master bath is going to be home to this fabulous bath from Victoria and Albert and is named the "Ravello.". It is made from English cast: a one piece casting of volcanic limestone and resin. It is harder and more durable than acrylic so say the manufacturers. All I know is that it is a stunning bath tub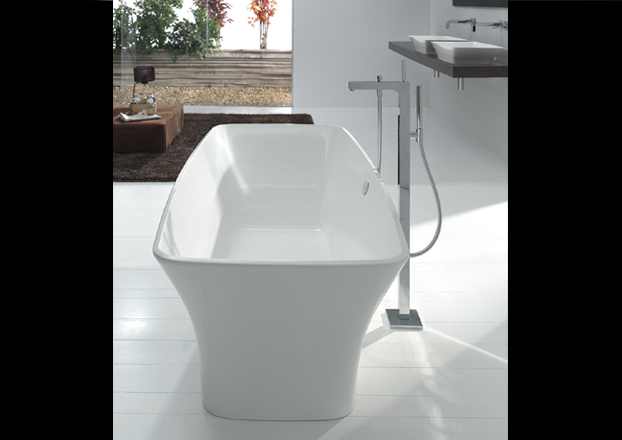 and is going to be a show stopper in this modern classic bath. For those of you who stop by regularly, this is the project that I was on the fence about a few weeks ago. Now that we are rearranging the master layout ( thank you awesome  gem of a contractor who bought into the re-design ) I am very excited about the direction of this bath!
And to wrap up tubs for the evening , I leave you with one of my favorite tubs: The Wind tub from Neptune . I have used this tub several times and in each project, it reads differently in the design. What do you think? We LOVE comments!~~~Cheryl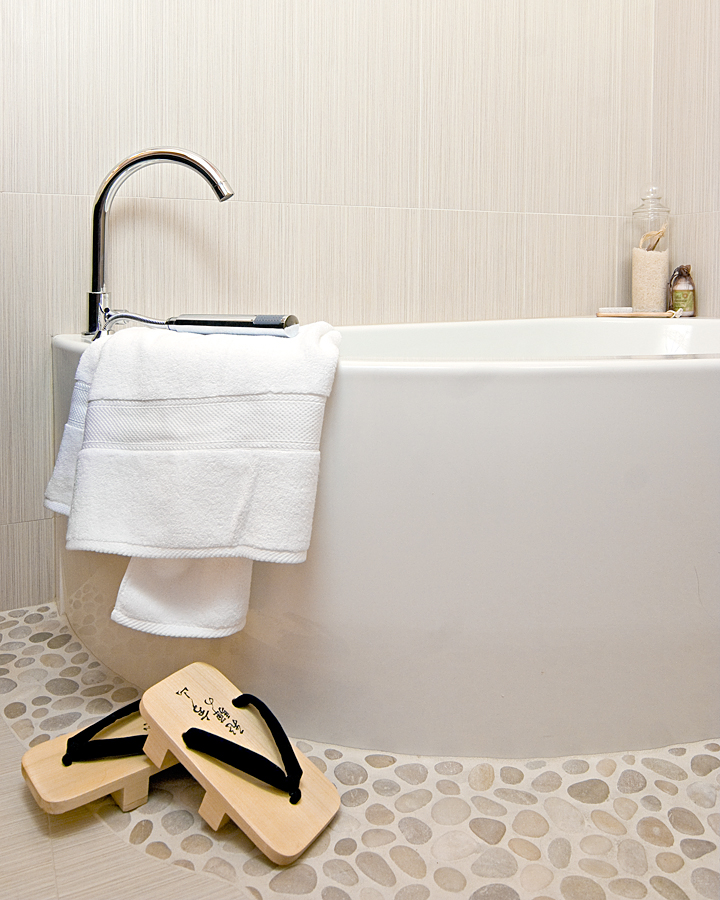 Designed by In Detail  for a modern bath.