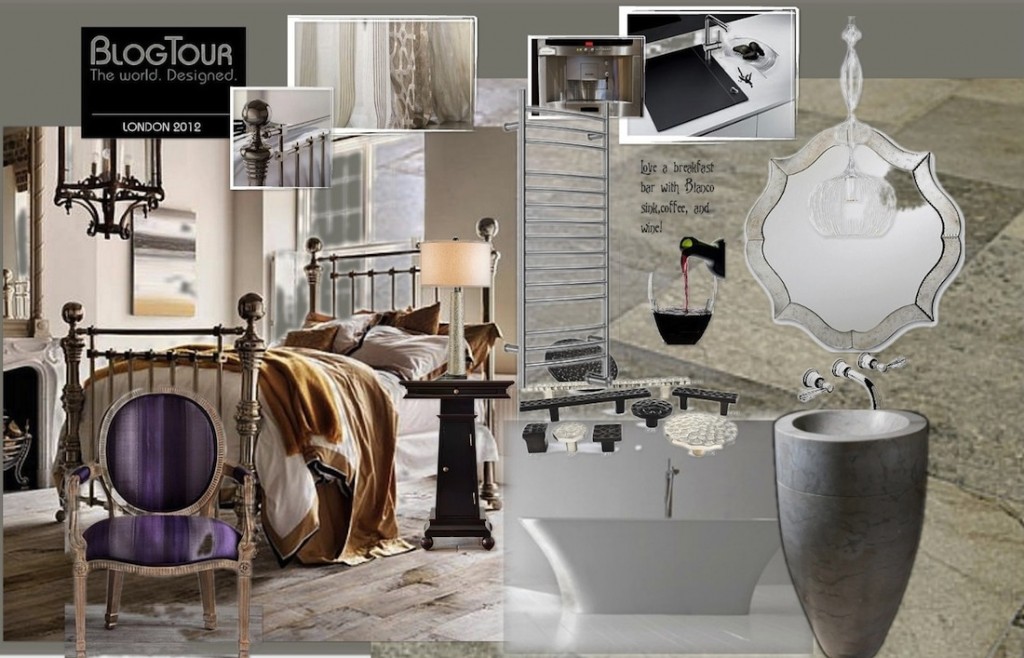 So here we are with 9 days and counting to Modenus' 2nd Blogtour London  Tuesday departure! I am not sure how I am going to be able to fit in every thing that needs to be done for clients, my shop, family, and not to mention getting ready for the trip!
As promised a few days ago, I wanted to walk you through my design rationale on the selection of materials for my Blogtour London dream bed and bath! This is just part one as usual I have lots to say!

When starting on inspiration for any room I design, I always begin with the floor. Whether it is existing or new, I need to know what I am doing so can begin the design from this starting point. In this dream bed and bath, I wanted a unifying floor..flowing into both areas. Since I live on the beach, stone is a perfect choice! Here I have selected New Montpelier limestone from Lapicida. I love the variegated colors in the stone that will tie in grays and taupes from the bedding and window treatments.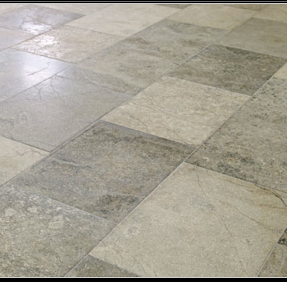 This floor will be the inspiration for the rest of the design and be the design element that makes the space work in harmony. My vision for this space is to blend  layers of monochromatic taupes and grays with lots of textural materials to achieve the sophisticated and serene look I want but with a few unexpected modern touches.
Now it may seem odd to some to begin with the bathroom in terms of designing a suite (SWEEEET) space like this but really is best. The bath selections are more permanent and need to be considered first and work bedroom selections into the mix. In a nutshell, I want to create a relaxing and quiet environment that is my "safe zone" from kids, relatives, guests, employees, and the daily stress of my hectic and crazy lifestyle. To accomplish this I also want a small bar area that will house a Thermador coffee center and small wine cooler ( YES I SAID WINE), a "vanishing " Crystalline sink from Blanco.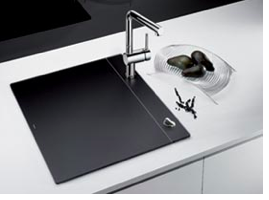 This is a new introduction from Blanco and is long awaited by moi as I saw it first last year in Germany. It is perfect for my dream suite as the size is compact and the cutting board covers it completely and can be used as additional counter area. And no microwave. Don't need a dang kitchen!  I want a bar baby!
The coffee is just because I am basically lazy in the mornings and do not want to walk downstairs! And the wine cooler is for well, you know, storing my wine. Essential for my dream suite.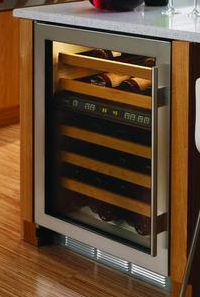 So we have the floor from Lapicida but I also fell in LUST with the Cascais Bongo Basin also in limestone from Lapicida.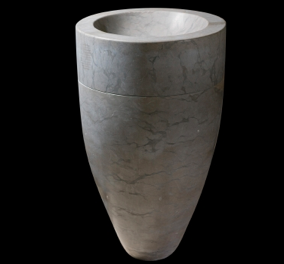 Ok, so before I get the WHATTT? questions on the choice of a single basin with no countertop  for the master bathroom, hear me out. I would do two of these sexy honed stone sinks and have counter space separate! WHY does the sink need to be contiguous with the counter? It does not. What I need is a sink to wash my face and hands ( hubby shaves in shower) and lots of counter to use for all the other bath needs.  A gorgeous dressing table would be part of my mix but also his and her counter space areas with ample storage.
Think outside of what the magazines and boring designers have espoused  for years! Live dangerously! Challenge the status quo!

And while you are thinking dangerously, toss out the idea of the "typical" tub placement needing to be under a window. Is it like this in England as well? I am going to ask this question and a few others when I arrive! I prefer my dressing table or counter space to be near the window for natural sunlight. This keeps me from looking like a character from Dr Seuss when I go out.  Sometimes it works best for a tub to be under a window but this placement should not be the default by every architect in America.  Areas that are used for grooming should be near natural light. That is the gospel according to Cheryl. (Give me a break, it is Sunday!)
In my dream bath I have chosen my all time favorite tub…the Ravello from Victoria and Albert  I love this tub and my portfolio tells the tale.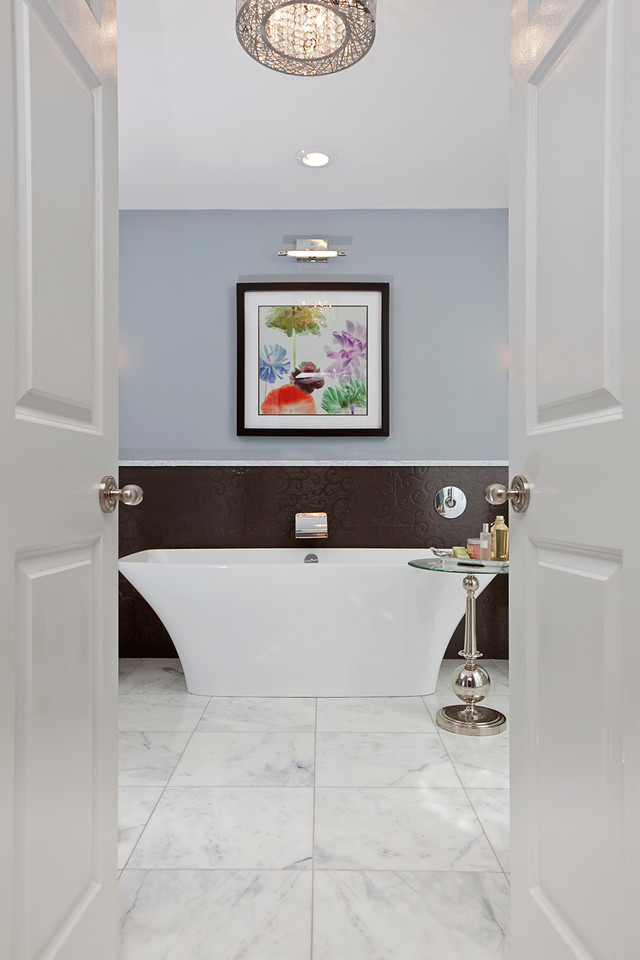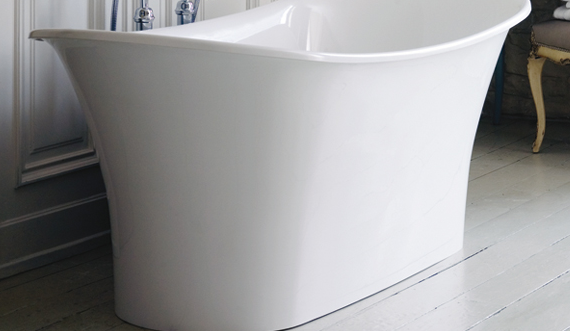 I love the lines of it and the volcanic limestone is such a perfect material. ENGLISHCAST® is made from finely ground volcanic limestone mixed with resin. It is one piece and hand finished.  Seriously, we specify Victoria and Albert 85% of the time.
The tub fixtures and wall mounted faucet is from the Fairfield collection of Samuel Heath. Samuel Heath is an English company founded in 1820. They manufacture fittings that epitomize graceful style. I chose the Fairfield with the crystal levers because the mix of crystal and polished nickel agains the rougher context of the limestone sink contributes to my vision of layers of textural style. This faucetry is stunning in it's own right and is the perfect foil to the limestone floors and basin.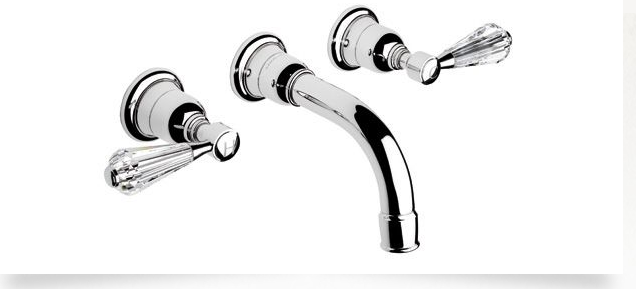 And no dream bath should be without a towel warmer. I regularly use these in our luxury baths and people love them. Our go to unit is the 300 series from Mr Steam. It is wall mounted and electric. I like this model because it can be hard wired ( preferred) but also can be used with a cord when hard wiring is not an option. I prefer a taller unit from a stylistic point of view but also give you room for more towels. And listen, if you have never gotten out of a bath or shower to a warmed towel, it is sublime. Truly. A must for any dream bath!

To complete my bath materials, I adore the DuVerre Pomegranate collection for my vanity cabinetry.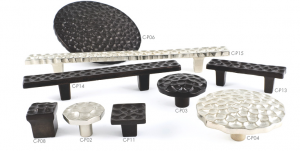 These recycled aluminum knobs and pulls are simple and elegant and the perfect organic choice for the rest of the materials chosen. DuVerre makes it tough to decide though and we have this discussion in my office constantly over which is the "fave" choice. It is a moving target! Each introduction is more gorgeous than the last. I have their pulls in my own kitchen already so keeping it in the family!
For the mirror and accent lighting, I chose an antique glass mirror to keep in visual scale with the free standing stone basin.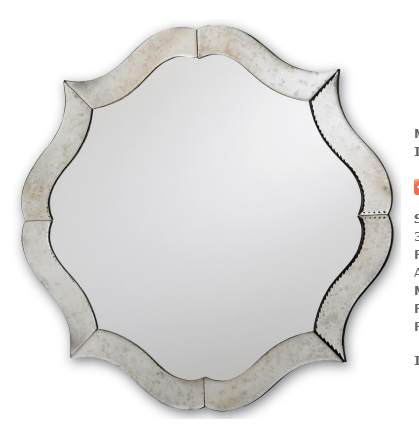 Sometimes is not about the physical size of a piece but the "visual" size of the piece and the presence it occupies in the room. More on this in a future post:) I love this mirror and light together. The fixture is a high gloss lacquer and is modern….and yet…not. I like the juxtaposition with the old elegance of the antique glass.
So what do you think? I will continue this week with the rest of the design rationale for the glorious bedroom of my dreams!
Until then,
BIG HUGS,