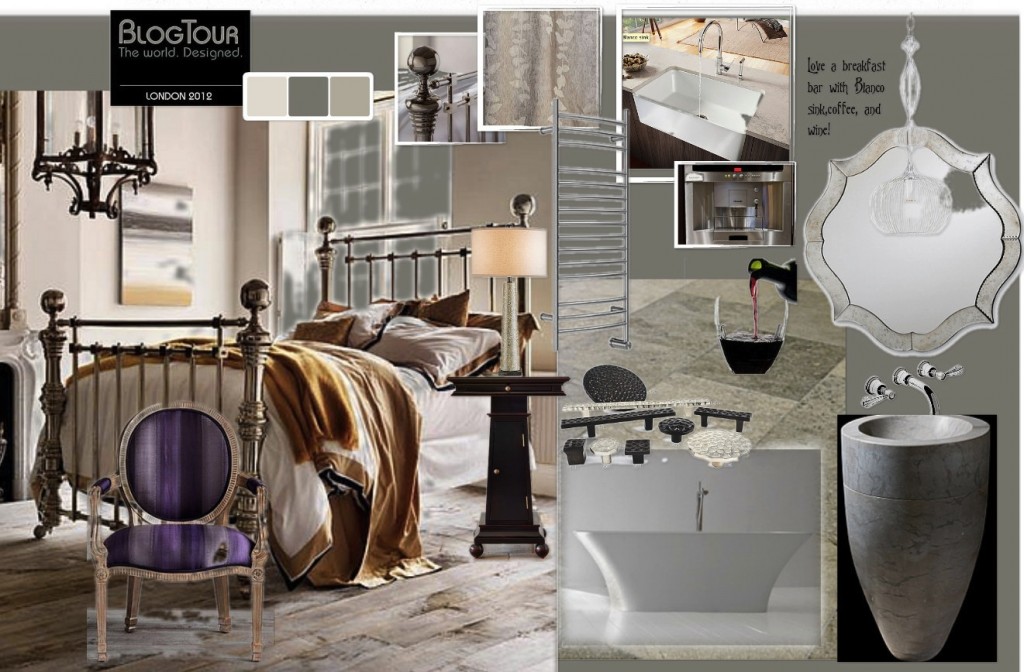 I think it is fitting to compose a dream bed and bath on olio board since BlogTour London is a dream for me! I am still pinching myself and we leave in LESS THAN TWO WEEKS!
I am excited to see everything there is to see, and I mean EVERY thing at the shows that will make up the London Design Festival but am also looking forward to meeting the other bloggers. (meet them Here ) I have gone on many trips where other bloggers are present and I have to say it has been a rewarding part of my job. Most of the people I have met along the way have not remained merely cyber friends but real friends in every sense of the word. Hugs and kisses to all and YOU know who you are! A special shout out to my friend Paul Anater of Kitchen and Residential Design as without his first introduction into social media, I doubt I would be going on BlogTour London!
Ok so on to my dream bedroom and bathroom. You may ask me, where am I getting in the time to work on something like this? ( My husband asks this too so you are not alone!) I fit it in between 2:30 AM and 3:30AM…slot usually open! Really, truth is I like to know my "stuff" and began researching the sponsors of BlogTour London so that while sipping champagne, I actually can converse with them about their products or about the tour in general.
Once I started really delving into websites, I was overwhelmed with some of the beauty that awaits us in the showrooms! A few of the sponsors will not be in London but luckily these are the sponsors who I already know and love and not a lot of studying necessary since we specify their products daily.

Soooo as I sometimes can do, I got carried away with all the beauty and since I am, SWEAR, in real life in process of redoing my bedroom…(2 year process but don't ask).I decided to put myself together a little wish list. Are you listening, er, reading honey??!! A few of the selections are not from sponsors but items that coordinate well and hey, who knows, maybe they will be sponsors in the future!
My only question is how to get all this stuff in my checked luggage. Ideas? Tomorrow I am going to go through the why's and wherefore's of selections from each sponsor in a separate post  because I am getting frantic texts as we speak from my office. Heh Heh….just because I am in my bed does not mean I am not working!!!
Love y'all!