As 2010 draws to a  close, I have been evaluating my blog and listening to clients and readers as to what they like/dislike about the blog. I am tickled that one common comment has been that I have not been writing enough! It is flattering as well as kind of scary since the days already seem to be pretty long!  But I really enjoy the writing and the communication with my peers, clients and just random folks who happen by…so my new year's resolution is to write more often! One of the other suggestions has been to do more case studies on our projects. Starting at the beginning and working our way through the goals, challenges and design rationale. Along with this type of "case study", we will also be posting "as we go" projects so that readers can share the process! This might be a vicarious thrill for some and painful for others if they have lived through their own remodels!  I hope you enjoy case study #1 and will give me your ideas on what YOU would like to see more on the "Details and Design" blog!
Small bath with loads of personality!
This is a returning client from years past. She finally was getting around to getting her daughter's bathroom remodeled! The daughter wanted pink then….and wanted pink now, 9 years later! To keep from being cotton candy sweet, we broke up the pink into small accent pieces and provided a more classic black and white scheme to be the main focal point. This allows the bathroom to grow along with her daughter!
BEFORE PLAN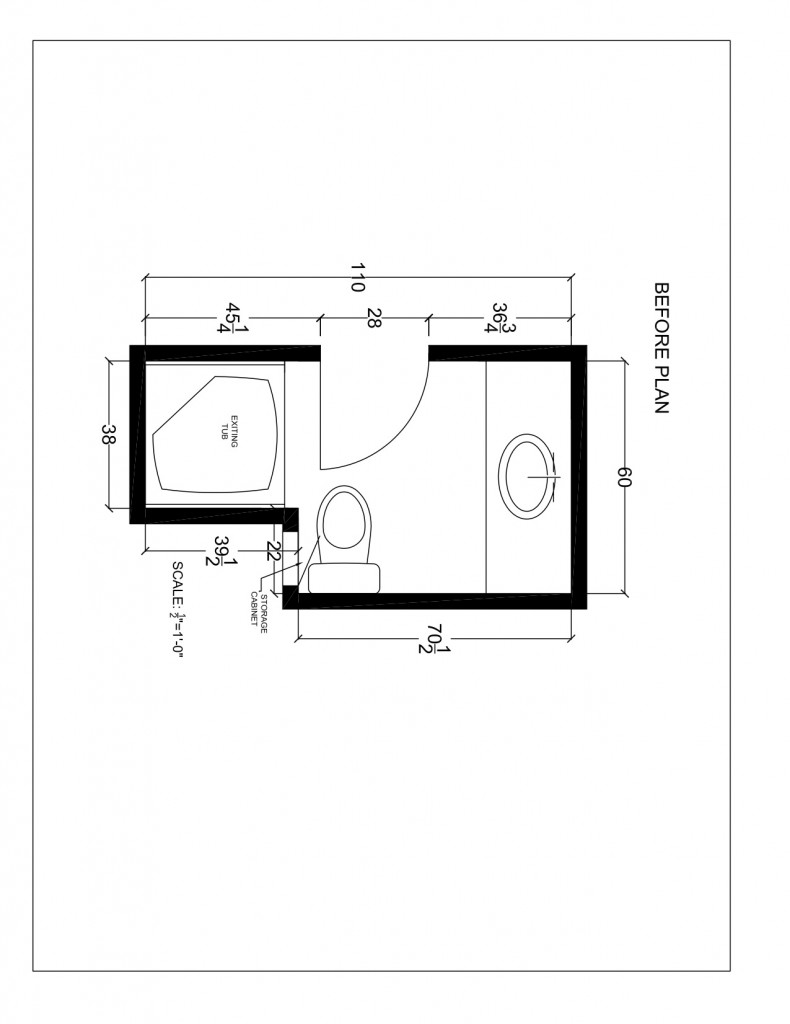 Before Photos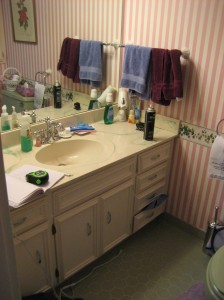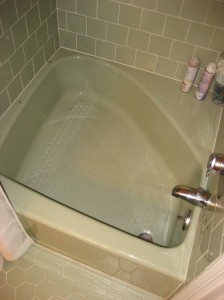 There was not an option to change the general layout of this super small space. So the challenge became how to reorganize it to suit the needs of this teen girl. The existing porcelain tub was avocado green and measured 30×30 and was 12 inches deep! Quite an interesting shape and size so we decided to keep it and glaze it white. The only option would have been to do a shower and the daughter really liked taking baths once in a while.
To provide a bit of glamour amongst the pink accents we clad the vanity wall in black, white and gray marble penny round tiles. The floor is a 12×12 shiny American Olean tile adding to the glam feeling. We chose to build the euro styled cabinetry out of a white gloss thermo-foil and topped it with a piece of marble. Every detail down to the Eurofase chandelier,Crystorama sconces , and Brizo Virage faucet echo the classic ambiance we sought….while still maintaining enough girlish charm to suit the desires of the young client!
After