Stacy Snowden is one of our fine designers at In Detail. I am a bit biased admittedly, but she has a wonderful sense of style and can stretch a dollar further than anyone around! Her creative vision delights her clients and she is the perfect muse for when we collaborate on a project! I will be showing off, er, I mean, posting more of her design work and sweet talking her into writing about it in the coming weeks. This project is  a simple but amazing transformation of her own fireplace!  Some ingenuity and sweat equity really paid off.~~~Cheryl
Dimes and Shoestrings
If you asked some of those that know me they might say I am thrifty.. Who am I kidding? They would say I am CHEAP!
Who wouldn't be with a new husband, a new house,  and being a new Mom of a soon to be 18 month old, oh… did I mention I work full time too?? Like most women my age, we have a lot on our plate. We want to help provide for our families and still have a great place to live, relax and enjoy with them.
I started on a few simple projects throughout the house but my biggest concern was our dated fireplace. Not only was it an eyesore but the jagged stone edges on the hearth were not exactly ideal for a small child learning to walk, or in her case, run! It had to go! With a Handy hubby, I knew we could do it ourselves and save a ton..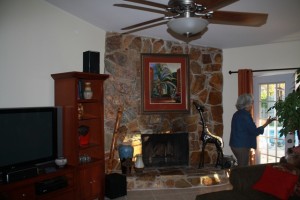 As with most design processes we started from the ground up. Having existing tile in the living room (which will someday be replaced) I knew something more solid would be ideal. I went to our local stone fabricator and had them cut me a piece of left over material they had in the yard. It's a win-win! I get a nice piece of stone at a good price, in this case a white quartz, and the fabricator benefits from selling scrap from larger jobs that would just be sitting taking up space. Installing was a matter of adhesive and setting it down. Heavy, but easy.
I would say the hardest decision was what tile to use. It needed to meet a few specific requirements; neutral, sparkle, price and easy to install since we would be doing it ourselves. Out of the options I brought home, both the Hubby and I leaned toward a mosaic that was mesh mounted with elements of glass and stone. The smaller squares allowed us to cut the 12"x12" sheet where we need since we were not equipped with a tile saw or glass cutter.  It was a little pricy per square foot but we only needed a small amount. So don't freak out! Do the math and really compare. You might find out that you get a lot more impact for
just a few extra bucks and if you love it.. go for it!!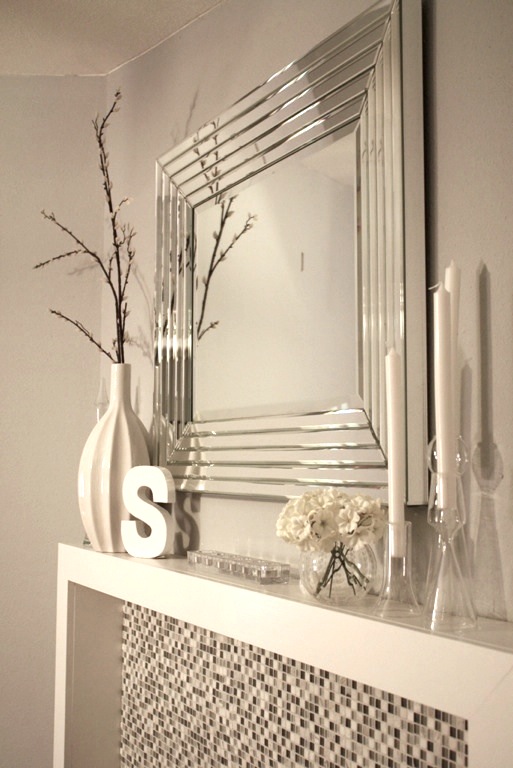 Lastly, I gave the Hubby and few pictures of mantle ideas that I liked and let him work his magic. He constructed the super simple mantle from inexpensive wood 1"x6" boards for the sides and tops and 1"x4" boards on the face frame the mosaic tile. A few coats of white paint and some fun white and glass accessories finish it off.  Now we have a center piece that we both enjoy and I smile inside because I know we saved by using cost effective materials and elbow grease!                                               ~~~~~Stacy Miller Snowden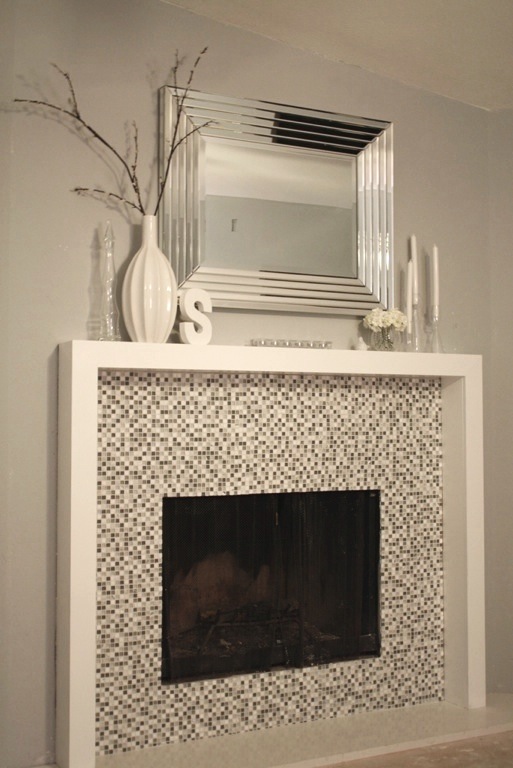 Fireplace tile: $275
Stone for Hearth: $150
Materials for mantle: $200
Labor: Sweat Equity and Hubby!
Accessories from left to right
Glass Decantur- TJMaxx $12
White Vase- TJMaxx $20
"S"- JoAnn $1 paint white with leftover mantle paint
Mirror-  NOT SURE What to put here
Crystal Tealight holder- gift
Glass Bird- Crate and Barrel $5
Glass bud vase- Crate and Barrel $10
Candle stick  (candles included)- CB2 $15
Flower and twigs-  JoAnns $5