Weeeel. Am back at my bed, er, desk from Spain and Cevisama, the Spanish tile show extraordina

Words cannot describe this trip so will let many many photos tell the tale. Heheheh. Me, short on words? Never. But will be posting one heck of a lot on this fabulous show. To begin with wanted to jump into some of the trends emerging, sustaining and those that should die a quiet death. I will be talking about my 5 favorite discoveries from Cevisama for the next 5 days!
I was brought to Cevisama as a guest of  Tile of Spain and part of a continent of journalists, architects and designers. What company I was in! Such personalities! Loved every one of them and of course will be handing out my awards in a later post.
Numero Uno!
One of the coolest things we saw and was universally loved by the architects and designers ( and trust me not a lot was agreed upon!) were the manufacturers who were producing the long and THIN slabs of porcelain. ( and YES I KNOW this was a big deal at last year's show but this is about my impressions and this is a new trend that is not just sustaining judging from more mfr.'s joining the party but also about the penetration into the US market.)
As any designer of kitchens and baths will tell you, countertop options are relatively limited. You have your granites ( ho hum) your quartz options ( show me something new mister!), your laminates ( budget), wood tops ( not practical for all over), and of course there is always tile. But what is the big beef with most people when you mention tile countertops? The dreaded grout!  Grespania's Coverlam showed last year at Coverings but this is first time I have seen it.  Naturally there are many great applications but my big thrill is for countertops and as solid panels in showers. Always looking for the next big thing.
Found it! 
This material can be cut with a glass cutter
Is lighter so transport is less costly
Can be used on floors, walls, in the shower and exterior applications
Several sizes
Several colors
Is resistant to UV light, chemicals and wear ( think of this as a countertop!)
WHAT IS COVERLAM???
Direct from the horse's website: 
The limits on size and thickness formerly imposed by ceramics can now be surpassed .
Coverlam is a laminated porcelain tile 3 mm thick produced by mixing the natural raw materials, ground together in the presence of water, compacted using a technologically-advanced pressing system and then fired in a novel hybrid kiln (gas and electricity), which amongst other things enables major reductions to be made in CO2emissions.
Furthermore, Coverlam is structurally reinforced by means of a glass fibre mesh 0.5 mm thick adhering to the back, endowing it with optimal mechanical strength.
Thanks to its thickness of merely 3.5 mm, Coverlam weighs only 7.8 kg/m2. This means that Coverlam is considerably easier to cut and handle and notably reduces the logistical costs of packing and transport.
Coverlam is resistant to bending, UV light, attack by chemicals, wear, fire and frost. Coverlam is recyclable and the manufacturing process achieves the highest degree of respect for the environment.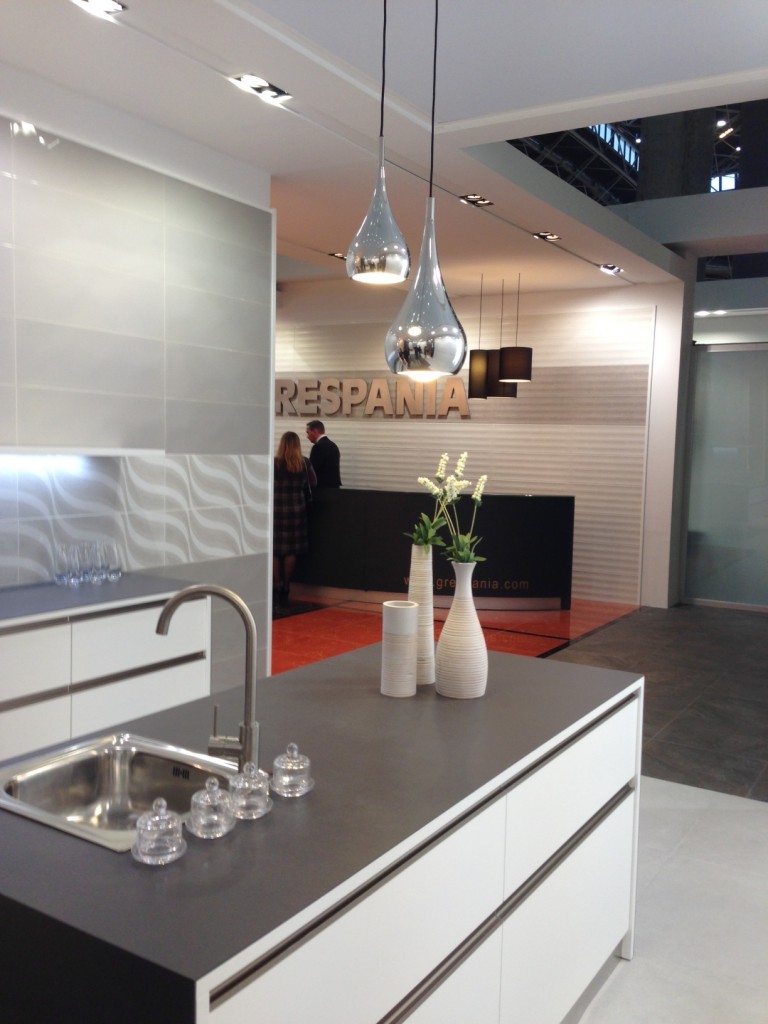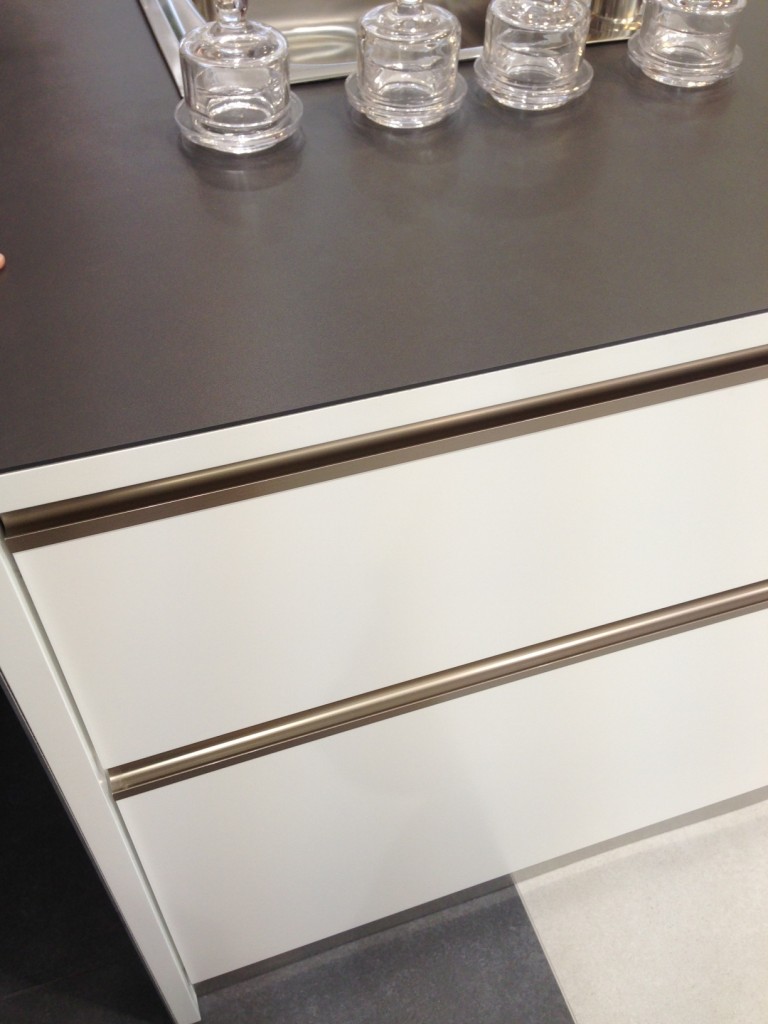 Porcelanosa also had large thin slabs of porcelain that I loved but will be talking all about them in another post. I think Grespania has done it right and I really like the color selection.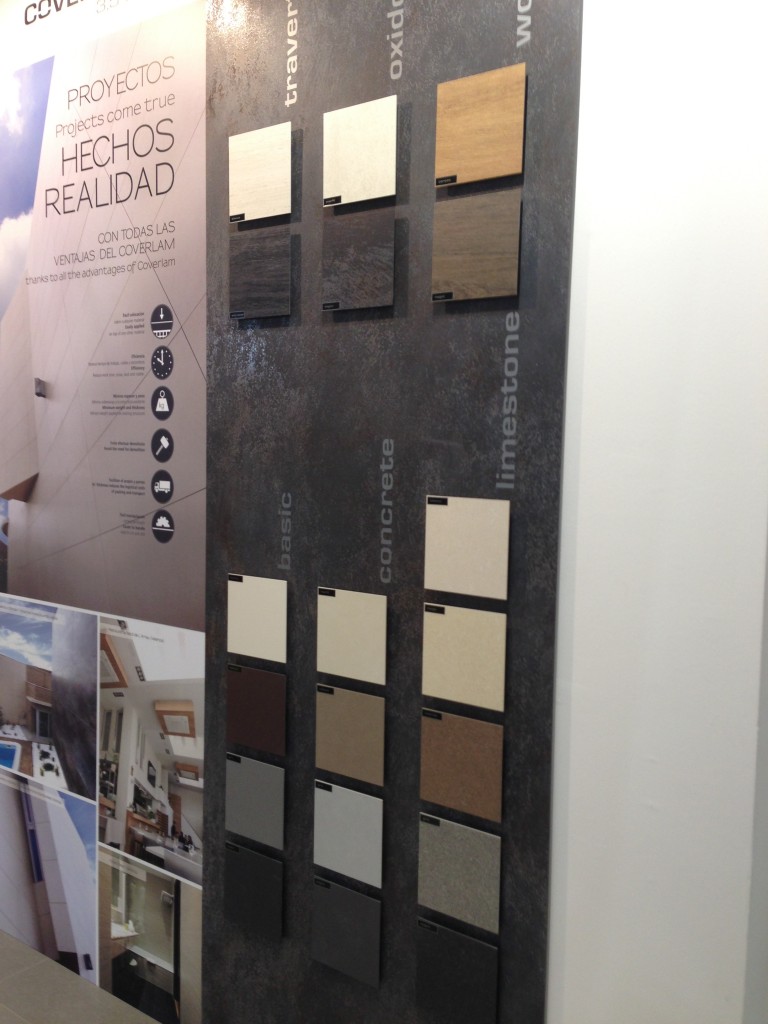 Look for Number 2 tomorrow!