I like to talk about cool stuff. Things that sometimes, you may not consider when redoing your bathroom. There is a long list and the ventilation tops it.I know this may not be the hot topic du jour but bear with me because it is short and sweet and to the point.
So, really, how many of you think about that fan that you may turn on when you really just don't want anyone to know you are doing "that" in the bathroom? Takes one to know one, hmmm.
Broan being pretty much THE player in bath ventilation among other things has introduced a sensor fan that looks like a light and not something out of star trek that senses the humidity level in the room and turns on, then off when needed. Cool idea huh? About $300 retail.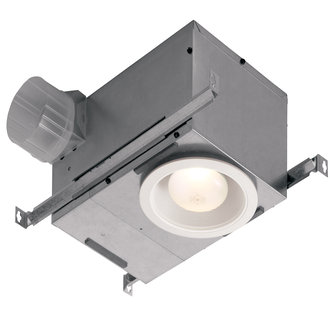 Bath fans are needed to keep mold and mildew from appearing, to remove odors from the area, and to keep an air exchange going. You want to get a good one too. It is recommended to have 1 CFM per foot of area. So a 5×8 room is 40 feet which means a 40cfm fan will work well.
Broans 744 fan has the following specs:
| | |
| --- | --- |
| • | High efficiency centrifugal fan delivers 70 CFM |
| • | HVI-certified 1.5 Sones |
| • | Multiple units can easily be used in larger rooms |
| • | Uses a 75 watt bulb, either R30 or BR30 for standard applications |
| • | UL Listed for use over bathtubs and showers when connected to a GFCI protected branch circuit with PAR30L or PAR30LN type bulbs |