I am working on an editorial for Better Homes and Gardens for a future "one kitchen: two budgets" feature and wanted to add something that was timely and would challenge me to look at new products into the design mix. (By the way, Kitchen and Bath Ideas magazine is an awesome resource…pick it up on newsstands or check out their Facebook page HERE. Great ideas!)
It's no secret that green design and environmentally friendly products are  a hot trend and during my research I found  new product offerings I have yet to see in many homes. (Part of the issue is that I live and work in the south and honestly the "green" revolution has not caught on here)
One of these cool new products is Blanco's Solon in counter composting system. Anyone who reads my blog knows my design team and myself love Blanco products. (And a bonus is they are a Blogtour London sponsor as well!). Blanco is always on the cutting edge of new product innovation and after my visit to the factory in Germany, I know why.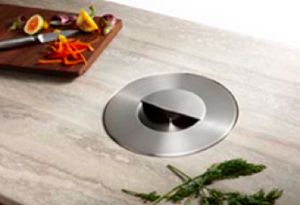 The word "compost" comes from Latin where it meant "to put together." This is what we do when we compost—we put together the correct amounts of compostable materials to make a great soil amendment.
Composting is not a new thing by any means. People have had heaps of garbage in their yards for years and years, breaking down (and hopefully not combusting) into a useable fertilizer or, in some cases, people can convert the heat from the compost into green energy. Farmers use it, gardeners use it, co-ops use it—it's a great way to cut down on the amount of waste you put into landfills and use it for a purpose. Read more about it HERE 
Blanco is bringing green indoors in a smaller scale,with an under-counter compost system. Some people have compost drawers built-in, similar to trash a pull-out. Blanco's  Solon system makes it a little more convenient with an 8 inch hole in your counter to scrape food trash into, and a nice tight lid.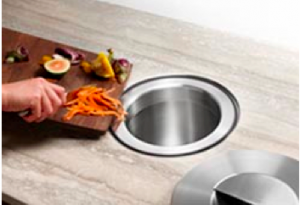 Any countertop fabricator will be able to cut you out an 8 inch diameter circle to drop this little guy in. Easy. It would be great by a prep sink where you wash and cut your vegetables and prepare your meals.
 And then when your bin starts over-flowing, pull that little sucker out and dump him in your larger pile of compost, wherever that may be. If you do not use the compost in your own garden, you can often sell it to someone else or give to a gardening neighbor.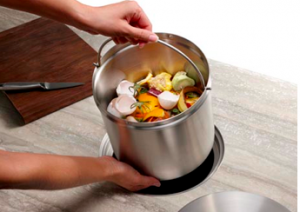 I remember many years ago at the Kitchen and Bath show looking for products like this for a client who desired green products with no luck. I love how the Blanco team of engineers is always thinking of product innovation even as simple as this small idea.
Green hugs!