Life is pretty hectic right now at In Detail! Busy, busy and some truly wonderful clients we are working with on really interesting projects! Today we presented master suite design ideas  to some of my favorite people and they liked all the concepts! It Is creative and different and fills their needs yet rises to the challenge of some job site limitations! That feeling can last me through SEVERAL bad days! When I "SEE" it in my mind, I get the greatest rush and know that I am on  right track…and if client agrees …well, life is GOOD!
Still working with a local firm on the new logo and ad concepts. Very exciting! But as usual, am way too impatient. But hopefully by Monday, will have some good ideas to see! Edgy conceptuals and I love it! We really must keep working to get the word out about the shop. It kills me to think even people I KNOW do not really grasp how we have expanded.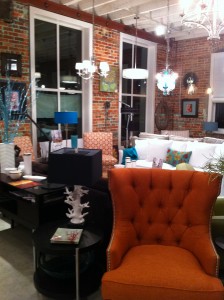 Today was spent in meetings most of the afternoon. Good ones and productive,but they can exhaust you. And then add the moving items around to find room for 16 new dining chairs!! LOVE all of them but need a second story I think. If people really understood how much creativity went into rearranging the floor every time we get something new or someone buys a piece off the floor…well it would speak volumes about our skills! If all of our pieces were same/same…color or style then would be easier but we are a DESIGN studio that also sells to the public. So we have clients with all sorts of styles and needs and must accommodate!
And I guess business is doing well.  Too busy to check but my trusty and awesome Business manager is on top of it and says we are "A OK". ( This translates into 'cheryl, take a chill and go have a margarita and get out of my office'. Easier said than done.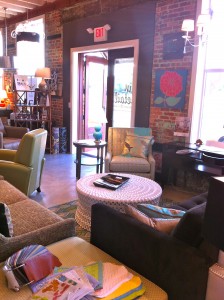 I am thankful for the calls from people inquiring about our services, thrilled every time a new person walks through the door to "look around" and over the moon when someone says " I LOVE YOUR PLACE!".
Swoon.
Not to say this business isn't tough. Problems at every turn ,days that do not end and challenges to overcome. (like the grout that looks NOTHING like the sample grout)  But in the end, I cannot imagine doing anything else or what other career would provide the excitement I feel every time I walk into someone's home that has asked me for help. I hope I never  lose that enthusiasm for a new project.
I joke with the design team about working in a bank when they start to complain about the crazies ( clients, vendors, walk ins, vagrants we have to call police on ) and some days, we may ALL wish to work in a bank! But can you see me behind a desk all day? Or behind a window cashing checks and depositing money? EWWWWW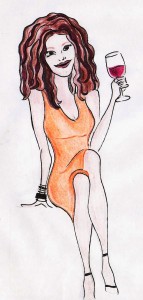 I may threaten to quit ( weekly) or to close shop ( twice daily) but would not even consider doing anything else or working for anyone…but myself.
Besides, I suck as an employee.