Woohoo! I loved BLANCO sinks and faucets before and have been talking about them for some time…check it out here and here but now can add even another reason…they are hosting a trip to Germany to tour the factory up close and personal as well as attend the premiere of the Living Kitchen show in Cologne. Yep, you heard right!
Truthfully, I am just now coming back to reality after finding out that I would be one of 6 designers traveling to Germany for the premiere of The Living Kitchen and still having a hard time processing the entire concept! It is a fabulous opportunity and pretty much feel like Santa has already visited my house and left the entire sack of toys!  Most of my travel buddies are people I have met before and I am really looking forward to seeing them again and sharing this trip with them. Paul Anater, "Kitchen and Residential Design", Susan Serra, "The Kitchen Designer", Jamie Goldberg, "Gold Notes", Leslie Claggett, "KB Culture" and Kevin Henry "The Essential Kitchen".
Many designers may suffer through factory tours to a certain extent but I am not lying when I say I LOVE them. I really do. I have been to tours at Hansgrohe, Subzero and Wolf and others and really think these insider trips learning about the products and meeting with product designers and engineers are a huge boon to my design acumen as well as give me good reasons to recommend the products to clients. I am unique in some ways in that we sell products in our showroom as well as do the design work. So it is even more crucial for me to really understand the benefits of each product we recommend. I cannot rely on a great showroom salesperson to help me educate my client because the great showroom is us!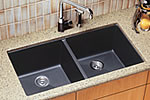 I have long loved these sinks and we have specified many of the faucets as well over the years but my all time favorite is the siligranit sink. This is a sink made of 80% natural granite, mixed with acrylic resin. This gives the sink its resilience and can be molded into various shapes AND it is environmentally friendly. Always a plus in my book!  My favorite is the performa in the bowl and 3/4 bowl.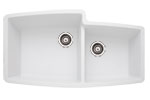 To me, this is the perfect sink. And several colors to choose from so what is not to love? I think the best feature is one that is not listed below: the fact that water spots are non existent…this sink ALWAYS look dynamite.
Here are the nuts and bolts from the Blanco website.
Heat resistant to 536°F.
Resistant to extreme changes between hot and cold.
Hard, durable surface is resistant to chipping.
Unaffected by acids and alkalis typically used in the home.
Moldable into an unusual variety of striking designs and functional features.
Compare our innovative angles, large capacity, and extra deep bowls.
Environmentally friendly, with recyclable raw materials.
Resilient surface is less likely to break dinnerware and fine crystal.
Extremely hygienic. Does not absorb odors or bacteria.
Non-porous design resists most household stains, including coffee, tea, mustard, beet juice, red wine, hair dyes.
Regular cleaning of BLANCO Silgranit® sinks is easy with a scrub pad such as Scotch Brite and any non-abrasive cleaner, including our own BLANCOCLEAN. Stubborn stains, caused by prolonged contact, can be removed with bleach and water, baking soda, or vinegar.
I will be posting about the show..naturally…as well as the Blanco factory…well, what they let me talk about that is!  This is a rare opportunity and truly am honored to be invited. I will do my best to share my enthusiasm from the show!