Today I am feeling spring-y!
So, this weeks 5 star Fridays focuses on some really GREAT blogs I have recently found and some of their posts on color related topics and how to color outside the lines!
AVOID MEDIOCRITY!
I found this great blog a few weeks ago. I love it and you will too. Here is what she said in one post:
Well if you are a client and your designer says "What do you think? a few too many times—be   concerned

.
Oh Maria!!! You sure said it! My thoughts are like this: If a client hires me to give them my advice and guidance based on my experience, then they deserve to hear the truth as I see it! Anything less is cheating them and taking their money dishonestly.
Let me introduce you to Maria Killam of Colour Me Happy! Maria's Profile: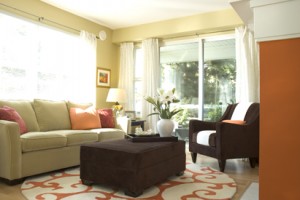 The chairs are calling my name!!!
With a fresh take on contemporary and a passion for colour, Maria is known for creating warm, comfortable and inspired spaces for her clients. A member of the International Association of Colour Consultants/Designers and the Colour Marketing Group, Maria also teaches Colour Theory at the Vancouver Community College. In a review of this blog, Material Girls called it 'Colour Advice from a True Expert'.
This blog is written by my friend Sarah. She finds the most awesome pictures to share with all of us. It is a treat to view!
Sarah's words:
On this blog I'll be sharing some of the pleasures and perils of  kitchen and bath design, as well as highlighting some examples of great (and not so great) design as I encounter them in daily life and in my wanderings through cyberspace.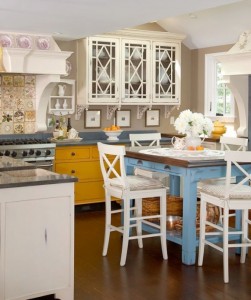 I love the "feel" of this cluttered kitchen. Definitely not mediocre!!
Pam writes a beautiful blog on kitchen design. This POST is about the color turquoise! Take a peek at her blog for a wealth of cool ideas!
In Pam's words:
"I'm all about the details! I design fabulous kitchens and baths online. My lifelong passion has always been drawing and painting –now I do it with a computer too."
The pix below is from my new blogger buddy: Paula Grace Designs.  She does a feature each Thursday on a different room and I never miss it! I have featured her blog once before but this Thursday's room fit the theme so well on color that I had to show you! I absolutely adore this room with the unexpected color combos and it works so well. Bravo Amy Lau Designs!
Paula's words:
"I am a designer mainly of interior spaces, accessories, and such. I am also a wife, mother, daughter, sister, and friend. I am a music & art lover. I talk about my daughter all the time. I laugh out loud and dance every chance I can get. I believe in giving back and moving forward without forgetting the past."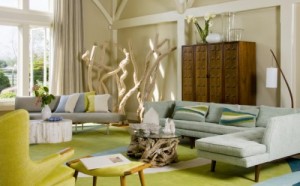 This blog post was one of the first I read from the erudite Paul Anater on his blog Kitchen and Residential Design. I thought, whoa…Who is this guy? Then I kept reading his posts …and kept reading….and kept reading. You will too. I chose this post of Paul's to highlight on my colorful quest for spring because it illustrates so well some of the pitfalls you can face in choosing colors for your space.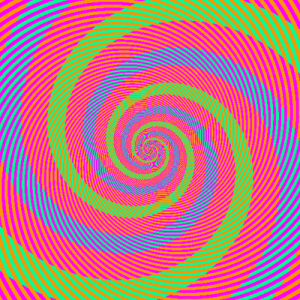 "Human brains are amazing machines, but cameras they are not. I deal with identifying colors for a living and I'm pretty aware of the tricks my brain can play when I'm trying to judge what color a specific color is. I always look at colors in isolation when I can and have been known to mask off whole sections of carpet patterns so that I can really see the color I'm looking at. I warn people all the time about looking at paint chips in a fan deck –don't do it! Your brain can't judge with any degree of accuracy a color that's displayed in a line up of similarly hued and tinted colors."