I'm heading back to my southern California roots to participate in a Bloggers retreat hosted by BOSCH and BLANCO, leaders and innovators of today's modern kitchen products. I am very familiar with Blanco and proudly sit on their  Blanco Design Council. I am excited to learn more about Bosch Appliances as they are quite innovative in their approach to design. This will be a chance to talk to their designers as well. I am not kidding when I say I love trips like this. I get to meet up with my fellow designers from across the country ( many I know and many will be first time meeting face to face) and I am afforded the opportunity to learn more about products I specify every day. This proves to be invaluable to my clients and I enjoy learning more to improve my knowledge base of products available.
A Blanco sink I first saw last year at the IMM inCologne Germany ( or at least this style) is now offered by Blanco here.  The Crystalline is referred to as the vanishing sink!  Perfect for space-challenged kitchens, this award-winning compact sink exemplifies the beauty of form meets function. With a safety glass cover that doubles as a cutting board, a small upper tray for sponge storage, an ultra-thin MicroEdge™ sink rim, and a "pop-up" European strainer button for hands-free draining, this state-of-the-art sink almost does the dishes for you. Which since my last free dishwasher is going to college next year, could come in handy! I really like the idea of using this in a design where you really are limited on usable counter space. What a great idea and I thought so in Germany last year too!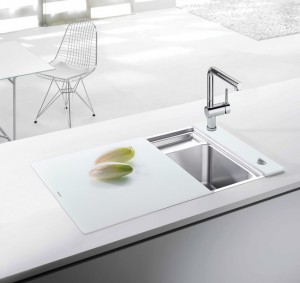 If you have read any of my posts or even looked at our portfolio, you will see I love and adore the Blanco Siligranit line. This is my "go to " sink. And now they are offering a smaller version one bowl sink available in 4 colors. ( I will work them over next week to get more colors offered…never fear!) Siligranit is affordable and complements any countertop with one of the colors offered. I LOVE the fact that water spots are practically non existent. I have specified this sink so many times with zero complaints. In fact, Stacy, one of designers at In Detail just installed in her own home. Seriously we love Siligranit.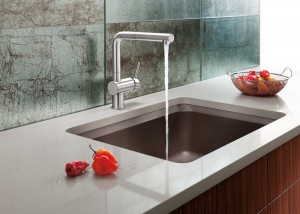 BOSCH continues to be the leader in kitchen appliances with almost silent and energy efficient dishwashers, boasting tri level dish washing racks, small load settings, express settings and a leak protection system. I am most excited to see how Bosch plans to replace my 17 yr old for washing dishes. This could be worth the trip alone!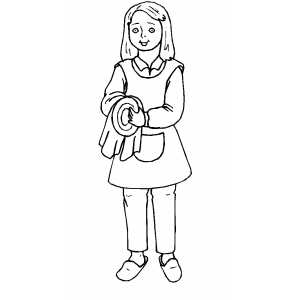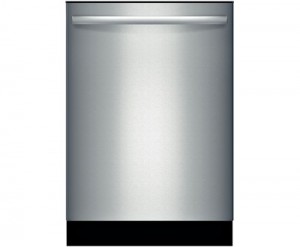 BOSCH's Induction Cooktops have pre programmed cooking settings for one touch cooking and the knobs have been replaced with a smooth stainless strip. Induction continues to be a hot trend and I confess I do not know as much as I should. So stay tuned for more info on this fabulous way of cooking!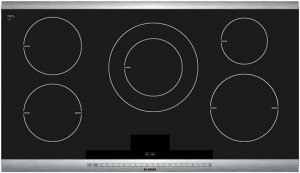 Our visit will be full of fun and excitement, with panel discussions, an interactive culinary experience with Executive Chef Kyle Jakobi and an opportunity to meet with the design and brand teams of BOSCH and BLANCO.
A few of the other designer's /bloggers attending: ( Sorry if I missed anyone!)
Send me your comments and your questions about the future of kitchen design or any ideas or thoughts you have on these manufacturers.