The annual BIG lighting show will be in Dallas in a few weeks. Casey and I plan to go ( if we do not have to sell a kidney to get there) and will be reporting back on what I hope to be an awesome show.
I love lighting. Ahem. I mean, I love well done lighting. I see it rarely. Sorry but is true enough. I think when building, people are all tuckered out by the time they get to the lighting selections. Or worse, they let their builder or a lighting salesperson make selections or visit the big box guys and think that is all there is to great lighting. Now, there are some good lighting sales people for certain. BUT, the problem is they are not looking at the big picture and how the various design elements interact. AND, further, they generally had no input in the rough in locations or switching. This is where a damn good designer (look for the certified DGD on their cards!) can be invaluable.
There are way way too many points to get into in one post but I will write about lighting this week to get you excited about what I will bring back from the Dallas show! But here is my first 3 rules to follow and it really is pretty simple.
***Light well  and in layers ( the older you get, I PROMISE, the less you can see) BUT……
              ***Switch differently ( for various uses and reasons) AND
                            ***Put everything on dimmers ( creates a mood)
Of course there is more to it but if you start here then you are ahead of the game.
Below is what happens when you are not looking at the big picture.  Overdose on a good thing. Yes, you can have too many hangy-downy things otherwise known as pendant overkill…especially when you have an island hood and so much busyness in the ceiling treatments.  It looks like a jungle and I want to swing from one cable to the other beating my chest.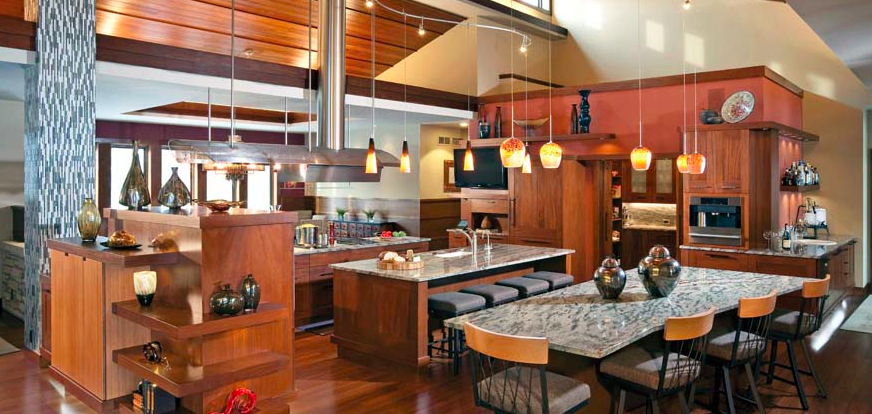 More to come.