Tidbit of information about me that most people do not know.
When I first started my business 14 years ago, it was strictly design based. No products. But then, I began to realize I was in a MUCH smaller town that San Diego and did not have the same resources especially for cabinet hardware. Having always felt that the biggest sin in kitchen design is the ubiquitous round silver or (GASP!) brass knob being installed EVERYWHERE on all the cabinets, I needed to find some good looking hardware! Thus, my first product lines entered my business. There you have it. I needed the unique pieces I saw in my mind for my projects. Fast forward to today and you can see many manufacturers of hardware in my shop. All sizes and shapes and price ranges.
One of the more creative and unique lines my design crew and myself like is Duverre Hardware (you may know this if you read my last post where I mentioned their Pomegranate collection for my dream bath). Their hardware is crafted from recycled aluminum (who doesn't like something recycled these days?) and finished by hand. With a kitchen full of knobs and pulls from them, no two pieces would be identical.
This is a shot of my own kitchen with the Lotus knobs. In polished nickel:)
Here's another one. In a kitchen like this with such clean lines and minimalistic approach, you'd expect the hardware to be simple and straight bar handles. But throwing in just a little bit of  softness with Du Verre's polar hardware adds an unexpected, but nice surprise. The hardware is truly an artistic creation—a unique combination of form and function.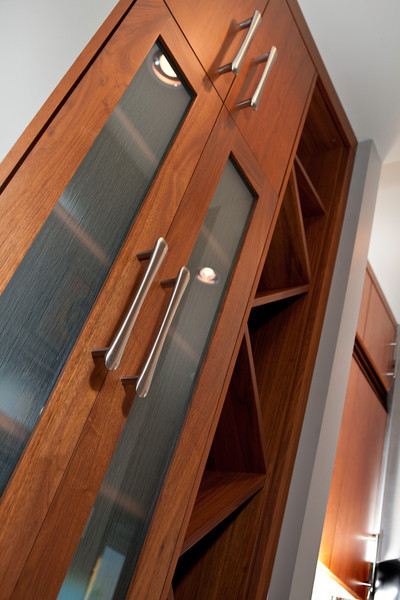 So you see I am quite familiar with this incredibly gorgeous line. Now off to make the Brits know about it too!
Think about me flying high ( in a plane) on Tuesday off to Blog Tour London!
Thank you Duverre for being a Blog Tour London 2012 sponsor!
Until next week,